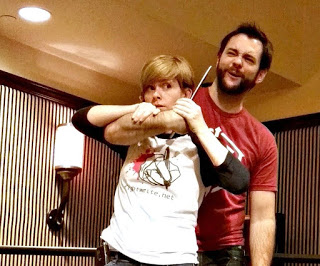 About Carla
Carla is the author of the Writer's Digest book, Fight Write: How to Write Believable Fight Scenes. This fight scene reference guide teaches writers about writing fight scenes not only from the standpoint of craft but also the physical and biological factors of fighting. Fight Write also teaches what fighting style is best for your character, which weaponry suits them and how to fight from the back of a dragon. But, wait, there's more! It also covers injuries, stages of decomposition and the legalities of your character defending himself. Carla is a FightWriting instructor and regularly teaches across the country. She is the host of the FightWrite Podcast and, as far as you know, not working with cats in their evil plot to overtake the world.
What People Are Saying About You
Carla Hoch doesn't just know her stuff—she's as fun and entertaining to listen to as she is smart about all aspects of her craft. Not to mention how to disable, maim, or kill someone and hide a body. Because there's also that!
What can I say? As both a person and an authority on all types of fighting, Carla is awesome! I've referred to her, without exaggeration, as Wonder Woman. I mean, she can fight, analyze fights, and communicate what works and doesn't work—in real life and on the page. From what I've seen, she can take on MMA champs, street thugs, and any writers who think they know their fisticuffs. My money is always on Carla.
Frequently Requested Topics
Various Topics of Making Your Characters Realistic
* Body Moving * What Your Character Should NOT Do When they Punch * Crime Scene Cleanup *PTSD for Characters * How to Wield a Knife and much more.
Fight Writing
Make your fight writing the most realistic it can be. Here you will learn about fighting technique, common injuries, psychological effects, weaponry and, of course, the craft of fight writing itself.