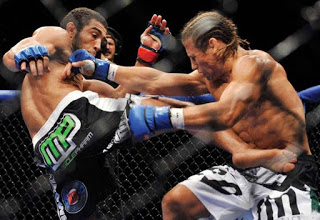 In order to describe a stupid kick, I need to explain a smart one. A proper kick makes contact on the fleshy portion of the shin on either side of the bone aka blade. To do that, you need to make an up chop or a down chop by turning the hip over. In both cases, you try to kick all the way through the target. The leg is basically a bat and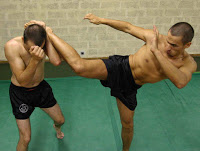 This is what I mean by turning the hip
over. You rotate enough to point the
knee downward.
you don't stop the bat once you make contact with the ball.
Muay Thai shin tempering. MUTE IT!!! I show this to help you understand how seriously fighters take their art. The work isn't just cardio and technique. Sometimes, it's just abusing the body to toughen it up and they do it willingly. Again, mute this.
And, the Silva video in both real time and slow motion. I'm sorry and you're welcome.
Somebody please put this in a story! If you don't follow MMA, you can't appreciate how amazing Silva is. Without question, he's one of the greatest to have ever walked into the cage. This fight wasn't only shocking for the manner in which he lost but the sheer fact he lost at all! I saw this live. Ugh.