This past weekend at the Realm Makers convention, I had the privilege of speaking to a great group of writers about creating fight scenes. I was asked some really good questions, a couple of which stood out. So, over the next few weeks, I will be discussing a few of those.
Can you really carry a katana behind your back? When I first posted this, I had no katana training. Thanks to iaido at Haru Dojo, I now have a bit and hope to have more. So, I have changed this a wee bit from the original post. Now, it is more correct.
Any who, a katana on the back: I've been asked this question a bit and I'm sure much of that is owed to The Walking Dead's Michonne, who is awesome. Period.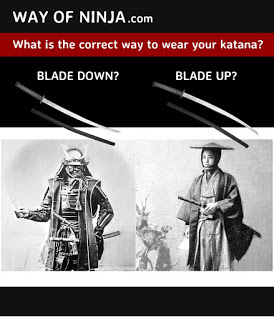 Traditionally, the samurai wore their katana at their side. If they were in armor, it was worn cutting edge down. Without armor, cutting edge up. Other cultures had different customs but I was specifically asked about a katana which is Japanese.
Only swords too long for the side were generally worn on the back.  However, they were often carried in such a way that they weren't drawn from over the shoulder. Rather, they were carried horizontally at the belt.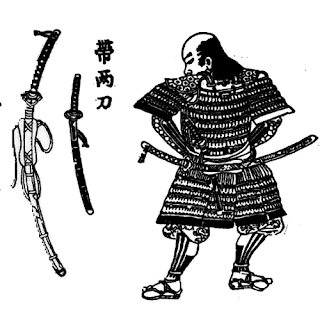 But, back to the question. Can you carry a katana, or, let's say any sword, on your back? Yes. But, really, the better question is, can you DRAW a sword from your back? If it's longer than your reach, then your outstretched arm won't unsheathe it. You will have to pull the "saya" or sheath away which you have to do if the katana is on the hip as well. However, on the hip you don't offer your brachial artery as you would extending your arm up over the shoulder. Either way, the blade will be toward the hand. When on the hip, you are pulling that blade away from the body. There's nothing in the way. On the back, you might give the back of your head a shave. Also, putting a katana back in the saya on one's back would be a titch harder than at the side.
The first video shows how to draw and sheathe. The second video will show you why this method for drawing a sword doesn't always work.
If you would like to learn to use a katana, call your local aikido dojo. Iaido (ee-EYE-doe)is a branch of aikido that covers proper drawing and use of the blade. Also, aikido is a FANTASTIC martial arts. Give it a look!
Until the next round at FightWrite.net, get blood on your pages!