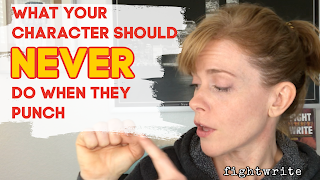 "He clenched his fist tightly and swung hard." Ever read that? It makes sense. For your fist to be solid, it makes sense that you'd clench it tightly. And for your punch to hit like a wrecking ball, seems like you'd want to swing it like one. The thing is, clenched fists aren't as solid as a wrecking ball. And, to knock down a wall, you don't swing a wrecking ball hard. In both cases, what you need more than what makes sense is science.
Efficient fighting is anchored in science. That science is generally physics. And, if you aren't familiar with physics, it be crazy.
It is also because of physics that you do NOT clench your fist and swing hard. Watch this video and you'll see what I mean. Pardon my cat.
Everything in the video is in my book
Fight Write: How to Write Believable Fight Scenes
out with Writer's Digest – Penguin/Random House. It's available just about everywhere and creeping into libraries. If your library doesn't have it, request it! But, don't tell them it's because you have want your hero to bathe in the blood of their vanquished. At least not right off the bat. Start with something lighter like, "I'd like to request the title Fight Write: How to Write Believable Fight Scenes. It's published with Writer's Digest. That sweater is lovely. I WANT MY HERO TO BATHE IN THE BLOOD OF THEIR VANQUISHED!!! Choose the pic to buy the book from Amazon.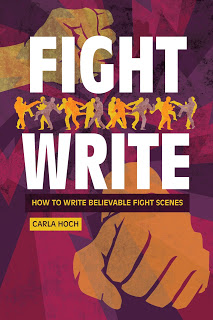 Until the next round at FightWrite.net, may be the mass x acceleration be with you.
(In case you are wondering why physics isn't capitalized, it is because you only capitalize it when it is the first word of a sentence or the proper name of a class.  "My Physics101 teacher be crazy as physics.")