Recently on the FightWrite podcast, I interviewed David Morales of BioTechs Crime and Trauma Cleaning Services. He was kind enough to do two interviews with me. In the first he told me a bit about his job. I've done a summary post about that interview here.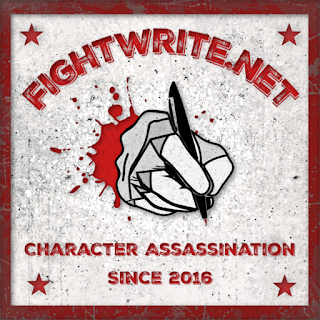 The second part of the interview is featured today. It is not word for word what was said, just a summary. I really suggest you listen to the interview. Especially because of the jugs of urine. Yes, I said "jugs of urine." Keep reading, you'll see what I mean.
How is crime scene clean-up different from CSI?
Crime scene investigation and is a function of the police department. Their job is to gather evidence in order to piece together what happened. Anything they remove from the crime scene is for the purpose of investigation not to clean the area. Crime scene cleaners are private entities and actually clean the crime scene to remove biohazards.
How do you clean up horrible crime scenes and stay emotionally healthy?
It helps to know that we are helping families and loved ones. It keeps the family from experiencing further trauma. I try to keep that in mind.
Is there is a type of crime you are called most often for?
The majority of the jobs are suicides or unattended deaths.
Do you ever have to deal with pieces of human matter?
We have picked up ears, noses, teeth, eyes, fingers, nothing like a leg or arm. The medical examiner takes the large parts of the body for the family for the funeral.
How do you dispose of that?
We put them in our biohazard boxes and, per OSHA guidelines, the boxes are incinerated.
Where are they incinerated?
There are places around that specialize in incinerating this sort of thing. We store the biohazard boxes in a separate location and they are picked up for disposal once a month.
Are there times of the years that you have more activity?
We see more suicides around the holidays. In the summer we see more unattended deaths.
Is there a time of year where you see more car crashes?
No, that's consistent. There's crazy drivers year round.
Do you follow the same procedures for cleaning cars?
Yes, the carpet and anything that can't be sanitized has to come out. We go down to the metal if necessary.
What does human death smell like?
You never forget the smell of human death. It is a bitter, sour milk smell. It's "mushy" and you can smell the metal in the blood. The health of the person can change the smell as can the environment. If it's hot, the smell will be stronger.
Have you ever not been able to get the smell out?
No, but there's been times it's taken longer than expected. We've had to go through sheet rock and studs. Once the smell was caught in the a/c and we had to clean the air ducts. In that particular instance it took a week to get the smell out.
How do you help people who have a shared wall? How do you help them with the smell?
We may have to go to the next apartment. Once we had to take out the cabinets of the neighbor and there was actually more fluid under their cabinets than in the apartment of the one who passed.
Is the smell of a dead animal the same as a human?
The smell of a dead animal seems to stay consistent. Human smell tends to just get worse. I think animals smell worse.
When you enter a hoarder house where there is a death, what's the worst smell?
In a hoarding situation there are a lot of different smells. Sometimes the smell of the hoarded material is so strong you don't even smell a dead body until you are right up on it. 
Are things collected at hoarding situations destroyed as bio-hazardous weight?
It depends if a body is present and how long it has been there. If the body has been there a week or two weeks, the body starts to decompose and it attracts maggots. The maggots turn into flies which fly around the house. You can see little black dots on the windows and walls where the flies have tried to escape. They are so full of contamination that every time they hit the window or wall, they leave spots. Anywhere a fly has been, there is contamination. It all has to come out. We've had to tear out carpet and wipe walls all over.
How do you dispose of big things like carpet?
It all has to be broken down, boxed up and incinerated.
If a writer has a murder scene in their book, how should their character cover up evidence?
I would burn evidence or use oxygen producing detergents or replace the wall, floor etc.
What are writers of books and movies not getting right with violent crime scenes?
It's not that I don't think they are getting it right. I think sometimes it is a little too elaborate, a little too much blood etc. But, that makes for a good movie or book.
Have you ever had to testify in court?
I haven't but I know others who have. By the time the scene gets to us it's pretty well investigated.
What's the craziest thing you've seen in a hoarding situation?
Jugs of urine. Lots of jugs of urine. With details of the filling! (You really need to listen to the podcast for the details on this one! It's crazy!!!) 
If you get blood on the carpet at your house, what do you do to get it out?
If it's my house and it's from a cut on my finger, I will use chemicals. If it's a larger amount, I would cut the carpet out!!! What you see on the surface is only a hint of what is underneath. It might be a small spot on the surface but a huge circle underneath.
That's it fightwriters! Again, I suggest you listen to the podcast. It's an interesting one. On the note of maggots on a body, here's how they help solve crimes!
On the next round of FightWrite.net, get blood on your pages!