First, if placed in handcuffs by a member of law enforcement, accept it. Period. Trying to get out of cuffs in that scenario never goes well. And, actually escaping  makes things go even worse. Worser! Worser should be a word and it would be used here.
However, this blog is geared toward helping writers and we writers, oh, we love escaping stuff. We love "worser," in all its forms. So, this post is for your character who finds theirself (yes, I use theirself as a gender neutral singular possessive) in cuffs.
Ok, last week we discussed how dislocating the thumb to escape handcuffs is not a "thing." In fact, manipulating your body in any manner won't help you. It might allow you to bring your hands to the front of you which will make the actual escape method easier. But, that presumes that your arms can loop under your rump. However, that alone doesn't free you.
Option one: Break the chain between the cuffs like this guy!
What I think he is doing is twisting the chain with enough torque to snap the hinge.
Option two: Pick the lock. Handcuffs work on a ratcheting system like so: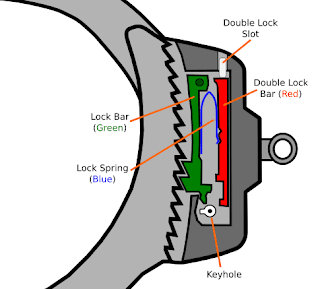 If you look at the circle labeled "keyhole," you will see that a little arm comes off of it. Lift that little arm and you lift the pawl (the green thingy) which frees up the teeth holding the cuffs in place.
How do you lift the pawl? Well, it ain't so hard. All you need is a paper clip or bobby pin. Slip it into the keyhole and move it around until it turns and lifts the pawl.
Option three: Make a shim. You can use a common hair barrette.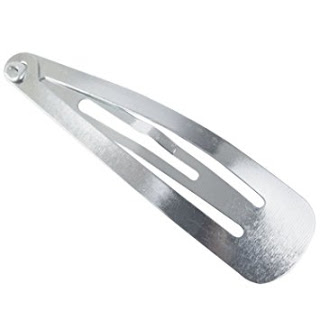 See the V shape in the top. The two legs on it can be turned into shims. The shim can be slipped between the ratchet and teeth and allow the cuff to slide loose. A paperclip or any other slim piece of metal can be used the same way. In order to get the shim far enough in, you will have to tighten the cuff a bit to feed it down under the pawl. So, if they cuffs are as tight as they can be, this might not work.
Now that you know how to escape, your focus can be on finding the correct tools to get the job done. They can be in the room or your character can always carry something on their person for this exact purpose. There are shoe strings that house shims and/or handcuff keys under the aglets. What's an aglet? Well, clearly you don't watch Phineas and Ferb. It's that little plastic thing at the end of the shoestring that keeps it from fraying. And, here's a song about it!
Until the next round at FightWrite.net, get blood on your pages!