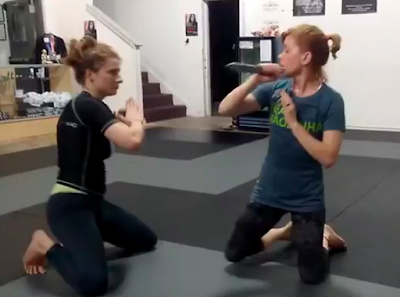 Ok, ok, I did a video already. Yeesh. You fightwriters are a pushy lot! Thankfully, the folks at Brazilian Top Team North Houston indulged me and let me film a bit of our *Meninas do Mãozinha self defense class.

This is a drill for the redirection of momentum. I repeat, this is only a drill. It teaches muscle memory and introduces a fighting fundamental which is nestled deep in Newton's First Law of Motion/Inertia. All fighting is physics, y'all. Sir Isaac Newton was a fight thug.

Newton's First Law states, in part, that an object moving in a straight line wants to keep moving in a straight line. The faster that object is going, the easier it is to take it off course. Think about driving in a car. Turning the wheel just a bit to the right has a far greater impact when driving 65mph versus 6.5mph.

The concept is the same with strikes. The faster a strike comes at you, the easier it is take it off course. Yes, it's trickier to get to it before it hits you. But, if you can, just a small tap to the side of the approaching fist will direct the punch away from its mark.

With that in mind, watch the video. I am not letting Emily throw me. She's not even pushing me hard. It looks like it but she's not. She's using the movement I am giving her and taking it off course.

Without further ado, here's the video. Wait, there's a couple ados. Let me point out a few things. The block shown is an inside block because it directs the strike to the inside of the body. The great thing about an inside block is that it brings the offending hand over the thrower's body which helps to block a follow up punch.

Also, I'd like to point out that my partner in the video, my teammate Emily, had NEVER done this whole drill. We had practiced the redirection a few times then I kinda put her on the spot and asked her to jump in. She's a BJJ fighter so the mount was a familiar concept but I hadn't said a word to her about trapping my hand until we were recording. That said, I get super happy with her for doing it correctly. I believe I say, "ta-da!"

And…roll footage…


First, let's look at how Emily held her hand for the block. I call it "waitress hand." Making that angle with the wrist keeps me from being able to slide up and over her hand to strike her. With the waitress hand she steers the strike away. With her other hand she redirects the source of the movement: my body. Again, she's hardly pushing at all. I start falling harder because I am moving faster. BTW, don't fall on your hands like I'm doing. You will hurt your wrist. If I had fallen any harder I would have tucked the arm and let the entire limb absorb the landing.

You also saw that she blocked with the back or top of the arm, whichever way you wanna look at it. Like I said in the video, it spares the more blood and tendon/nerve rich underside. If those tendons are severed, your character will not be able to make a fist which means he will not be able to hold a weapon. Never mind the issue of severing those veins/arteries. On that note, here's a post on the stages of bleeding out!


When Emily redirected my momentum, she turned toward me. That's important. It keeps her ready to address me again. By going to "mount" (that top position) and staying upright she immobilized my body and kept a better field of vision than if she had put her chest on me. Having my assailing arm extended kept me from taking the knife into my other hand. Also, pinning my wrist rather than forearm keep me from being able to do anything with the knife.

I said that in that position she had a lot of options. What were they? Well, she could have drawn my hand back which would have lifted my elbow and rolled me toward the hand to break my wrist. She could have landed hammer fist strikes to my temple. She could have gouged out my eye. But, best of all, she could have taken the knife for herself and just ended the matter. I know all of those seem extreme. But, if a malfeasant pulls a knife on your character and stabs at him, that villain aims to kill. The reaction should always fit the intention. Again:


THE REACTION SHOULD FIT THE INTENTION!!!!
In other words, even though an action does not kill your character, that was the intention! So your character better kill back first! That's what we go over in self defense as well. If somebody tries to kill you, kill back first! For the record, that is the best way to say that. "Kill back first!"
Until the next round at FightWrite.net, get blood on your pages!
*Our coach, Daniel Galvão, has the nick name "Mãozinha." That is why our team is known as Team Mãozinha. Meninas do Mãozinha is Portuguese for "Mãozinha Girls." And "O gato tem a cerveja e as chaves do carro" is Portuguese for "the cat has the beer and the keys to the car," a phrase my Portuguese learning felt imperative for me to learn. Apparently cats drunk driving is an issue in Brazil. With that, I must attach a video of Toonces. It's kinda obligatory – é obrigatório!