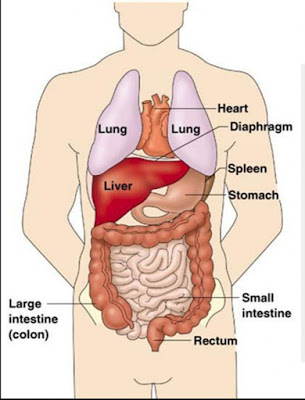 In our last round, we discussed size disparity and strikes. You now know the correct way to both kick and punch. You also know how to combat these strikes and how to get in close. So, there your character is, staring straight into the chest of their opponent. Now what?
Look through the eyes of the smaller fighter. Go ahead, step into their skin. While you're slipping in there, stop thinking about the opponent's size advantage. Quit thinking about what they are taking from you. Instead, look for what your opponent is giving you.
You in there? Ok, open your eyes. Right in front of you, perhaps at eye level or within reach depending upon size, are the neck, inner arms and inner thighs (jugular, brachial, femoral arteries). Open those points and things will get really colorful. Without appropriate aid, death would occur within 2-30 minutes depending on the severity of the cut. If the attacker continues to fight, death would be quicker as the heart would be going faster. And, point of interest, they may not realize they are cut immediately. Adrenaline is a crazy thing.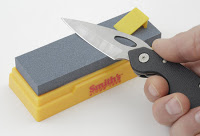 This is a cool little knife, easy to
conceal. However, if you don't hold
it correctly and you stab into
something, if you don't sink
it to the end of the blade, nothing
will stop your hand from sliding down it.
Didn't even think of that, did you?
Also vulnerable and available to you are many vital organs. The heart, lungs and a good bit of the liver are behind the ribs. However, the ribs are not hard to get around with a knife that is held correctly, and the liver is a better target anyway. The lower portion is not protected by bone. A laceration of 3cm or more, on occasion less, can lead to dispatch. If you go lower and open the abdomen, dispatch is unavoidable without swift, surgical intervention.
You can also stab upward between the legs (perineum), which is awful. (It is. In fact, let's just all take a breath.) BUT, if the enemy is in full armor, that axis point of the body may be the only place that doesn't have metal over it. Not only will results be colorful, but the attacker's response will be highly animated. If the crotch is covered by metal, the top of the inner thigh, where the leg connects to the body, will still be available unless chain mail pants or the ilk are worn.
I realize all of these options require a knife. If your goal is not to dispatch, if your character doesn't have a knife, they can still take the larger opponent to the ground. (I will cover that in a future post.) However, taking someone down doesn't keep them down. You need to provide for that. Yes, the bigger they are, the harder they fall. But, in my experience, the tougher they are to keep down as well.
Also, bear in mind that agility is easier for small people, but it is not peculiar to them. I recently sparred in jiujitsu with a professional fighter who outweighs me by 100 pounds. (It was like wrestling an anvil.) He was faster than me and completely overwhelmed me. I was able to escape but, without question, he allowed it. At one point, he commented that the match-up was highly unfair. I told him not to worry, I was going to stab him. He said, "how you gonna stab me, I have both your arms?"
At that moment I was sitting back on one knee with the other raised up in a sort of lunge. He was on his back, pushing me away with his knee in my chest, while holding my wrists and pulling me toward him. I was completely helpless. On the battlefield he possibly could have cracked my sternum and dislocated my shoulders at the same time. I tell you that because I cannot stress enough how overwhelming it is to be faced with a competitor of greater size and ability. I can see no way I would have survived him without a weapon. He would have made short work of me…pun intended. 🙂
Until the next round at FightWrite.net, remember, serve your story first and foremost. Now, go get some blood your pages.
Shorties, take heart. Goliaths still fall…